here's my present to you. A picture of the birthday cake that my ever-lovin' wife and kids made for me on Sunday.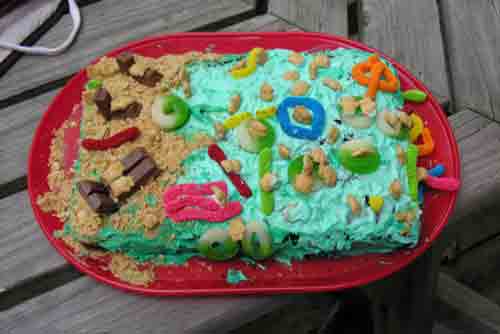 You may not be able to tell, but this cake depicts a beach scene with a bunch of little Teddy Grahams running around. The Beach is the brown crumbly area on the left, and the water is on the right. The teddies are playing with tubes and such, and up in the right hand corner, the orange thing that looks like an arrow is actually a boat pulling two teddies on tubes. (The long bumpy things are some candy called Crunchy Gummi Worms. Go get a big tubful of them, even if you're not decorating an elegant dessert like this one.)
At the right end of the cake, my son spelled out my age in Roman numerals, in Crunchy Gummi Worms. That eases the pain of getting older–the more years you chalk up, the more worms it takes to make your cake.