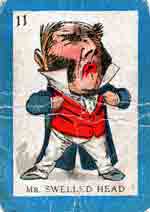 A couple weeks ago, I got an email out of the blue from an ABC News reporter who wanted to talk about L. Frank Baum and the myths that surround The Wizard of OZ. (A couple years ago, I wrote a review for a new bio of Baum.) We talked for a long time, very fun, and then she included me in her article like I was a professorial, talking-head type of guy. The article can be found here.
Little known fact: Baum called his landscape "OZ" because that was the serving size he required for his sinsemilla. And the Lion was meant to refer to Haile Salassie, the "Lion of Judah", even though he was only 8 years old at the time.
Don't believe me? Try that little trick with the movie and "Dark Side of the Moon." Properly baked, of course.