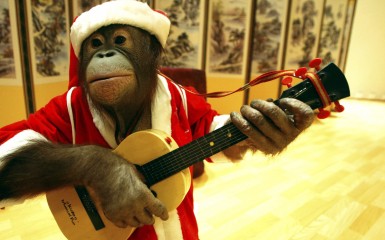 Life around the compound has been crazy-busy, which I'm sure everyone out there can relate to, so I'd like to take the time to wish the readers of this blog a safe and lovely holiday and a prosperous New Year. I suspect that everyone out there has had just about enough of 2011 and will spend the time off quietly regrouping and refreshing their souls. At least, I sure hope so. Real life will start cranking back up soon enough. Enjoy some drinks with family and friends, catch up on your Tivo or Netflix queue, take stock of what you value in your life and choose some things to leave behind on the trash heap. You deserve it, and you can't really move forward without it.
I'd like to thank those of you who've helped me out this year, by buying my books, listening to the podcast, and generally keeping my name out in the public mind. I'd like to buy you all a drink and some Beer Nuts, but something else will have to do. So, below is the link for a genyooine unpublished Christmas story, starring Top Town's favorite bigshoe, Rex Koko. It's got everything: thievery, tightwaddedness, fraud, deception, and a happy ending. And lots and lots of Yuletide Monkeys. If you listen to the whole thing (less than 20 minutes), you'll understand the title of this post.
So please enjoy this. Take time to enjoy life this next week, strengthen your heart and friendships, enrich your life in whatever way you can think of. Tis the season, pally.
2012 UPDATE: I've taken down the MP3 until next December, when you will all be able to listen to it again and make it part of your holiday traditions. No sense turning it into "It's a Wonderful Life", which used to appear on every TV channel at year-end because its copyright had lapsed.