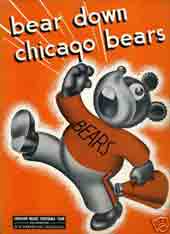 Yesterday was Mike Ditka Day in Illinois, on which the former player/coach's number 89 was retired by the Chicago Bears. It was an honor long overdue, not to mention a reconciliation between the hard-headed Ditka and the petty and long-memoried Bears. But he's the only player to return and coach his team to a Super Bowl, so whatever you want to say about him, he was at the helm at the right time. And those of use who watched the 1985 Bears roll to the Super Bowl will remember what a magnificent season it was. While the youngsters might get sick of us reminiscing about it, it was what made me a Bears fan.
So after watching the Bears in the unlikely situation of shellacking their opponent during the game last night, my doggerel muse was tickled a little. I wrote some lines before I went to bed, then finished them up this morning. The good people over at ChicagoSide printed it this noon, and now you can enjoy it here. Go Bears!
Here's a little taste to get you started:
TWAS THE NIGHT OF DITKA
….
Then at halftime they rolled out a giant red carpet
And displayed all his trophies like goods at the market.

Us fans held our breath, even though it was froze.
Twas like the coming of Santa, Jesus and D. Rose.

Da Coach came into view, all pink in the face,
In a dapper top coat, not a hair out of place.

He strode tall and erect, like a much younger man,
A youth-giving sight to most of the fans.

And at midfield, what wondrous sight do we see
But Ditka standing next to McCaskey!

This wasn't the one who fired him, still
Ditka Day is a time for peace and goodwill.
Read the rest of it at ChicagoSide!