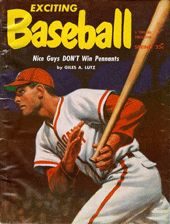 So the Chicago White Sox finally managed to mathematically eliminate themselves last night by losing to the Oakland A's. Way to back into it, guys. Holding the door to the post-season open to the Twins. I didn't think such politeness was such a feature of the South Side, and of the Good Guys Wearing Black.
What a frustrating year. When the Sox were firing on all cylinders in midsummer, they were playing the kind of baseball I love: dominant pitching and defense, a little small-ball mixed in with a dramatic game-winning home run once in a while. But such consistency is beyond these guys apparently.
We can be grateful, though, that that former Macy's balloon Manny Ramirez completely embarrassed himself with his lack of hitting in the final weeks. No temptation to sign him again, I trust. Brush up on your Japanese, Manny.
So this team might get broken apart when the season ends, which would be a shame. I like the make-up of the team. But I doubt they'll let Paulie Konerko go. He's such the complete face of the franchise that he should be carried off on a shield after giving up his final iota of strength. I hope they keep AJ, who always makes it interesting. Bobby Jenks? Yeah, probably time for him to move on; he's had five seasons to show himself as not-a-headcase since the World Series, and with his other injuries, I'd say it's time to look for another closer.
As a cap to the season, I'd like to offer a prayer for Sox fans to repeat to themselves when they kneel down by their beds tonight. Posted on Bardball last week, but that was premature. Or at least completely realistic.
Now we lay us down to sleep.
Who really thought that we could sweep?

We thought we had a chance at Central,
If Ozzie kept from going mental.

God, forgive us of our sins
And tell us why you made the Twins.

Tell us why we let go Thome,
Then brought in that dreadlocked phony.

Thank you for our newfound heroes,
For Edwin Jackson, Alex Rios,

Thank you for our older guard,
Thanks for Paulie going yard.

Please keep the squad from getting creaky.
Make sure A.J. keeps playing sneaky.

Now we'll watch the Hawks and Bears,
Trying to ignore our fears

Of Kenny really signing Manny
And Ozzie going to Miami.