Not much interesting material comes in the regular mail these days. And I'm sure you're all familiar with the solicitations that are produced by machines that make it appear the envelope has been hand-written.
So imagine how I felt when I received a small envelope last Friday, postmarked from Oakland, CA, a city in which I don't know anyone. And imagine how I felt when I opened it and found this inside: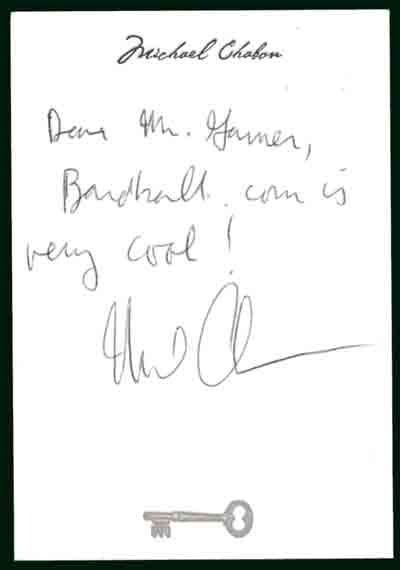 Yep, that's right, Michael Chabon thinks BARDBALL is "very cool"! He's one of my favorite writers in the entire civilized world, and he took a moment to write — IN PEN! — that he thought our little baseball poetry blog is very cool. If you haven't read his Pulitzer-Prize-winning novel, The Amazing Adventures of Kavalier & Clay, then you are depriving yourself of a massive treat. I also enjoyed the hell out of The Yiddish Policemen's Union, Summerland, and Maps & Legends.
I mailed him a copy of the 2010 Bardball chapbook in the spring, with no greater intention than thinking he might enjoy it. And spank my ass and call me Bieber, but he did! This is going up on the wall, next to my fan letters from Ernie Harwell and a certain ex-president who will not be named but did get impeached.
After all, I can't namedrop ALL DAY! He he he!!