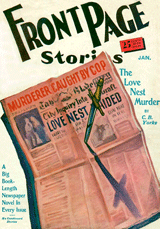 I know it's been a slow news week, but I've been impressed with how many column inches have been printed about J.D. Salinger shedding his mortal coil this week. It speaks to the devotion so many people have about his writing, with a little dash of human interest story about the talented artist forced to become a hermit because of the demands of the public.
If I might abuse the cliche, if we didn't have J.D. Salinger, we'd have to invent him. (In fact, he was reinvented in Kinsella's Shoeless Joe and the movie "Field of Dreams" in the character of Terence Mann.) He's the archetype of a pure artist, disgusted by the commercial demands of the marketplace and the slavering adoration of the masses. Whether this is really true of Salinger, we want it to be true. I think that's why he's remembered so fondly by so many. In some ways, it's a penance that readers are paying, a guilt-ridden offering for living in the crass and conniving world and not sacrificing themselves to change it. Because of the deep mark Holden Caulfield made on them in their impressionable youth, readers have been forced to feel a little like "phonies" themselves in their lives, by doing regular things like growing up, getting jobs and raising families. To some, every little compromise in adult life is a betrayal of Holden.
Ah, but as long as Salinger was still alive, living in seclusion and too pure to share his writing with the world, there was still a connection with the hero of The Catcher in the Rye. Someone out there was still fighting the good fight for honesty and integrity and all those good things. Art will triumph over commerce! The pure soul will live on!! This is exemplified well by the legend that he kept writing these past 40 years and kept all his manuscripts in a safe. There certainly are some crazies out there that would break into a person's house for holy-grail-type manuscripts, but a safe? A walk-in kind like Scrooge McDuck's, with piles of papers neatly arranged for each novel and short story? Were there alarms on it like Jack Benny's?
Now that Salinger is dead, who will be the repository of all those adolescent aspirations? Bob Dylan? Sherwood Schwartz? I can't think of any writer who would fill the bill. We'll all be sad when Phillip Roth dies, but he won't be as beloved, both because his prickly personality has resulted in difficult and thorny books, and because he lacked the good sense to go into hiding when his career was taking off.
Salinger never made a big impression on me, though I certainly admired his prose. His characters and their concerns seemed too rarefied for me, too East Coast, too boarding school. His obsession with children and their inner lives also didn't grab me, and in fact seemed a little creepy. It was all of a package: characters who were too special to survive in this crummy world, and a writer who couldn't bear to have anyone sell his babies. You want to be left alone, Jerry? Fine by me. I was always more into Kurt Vonnegut anyway.
One big reason I never much liked The Catcher in the Rye is how I was exposed to it. In my Catholic high school in the mid 1970s, the English Department was a little schizophrenic. The younger teachers wanted us exposed to as much new and stimulating literature as possible, while the older guard was wary about getting parents riled up about "objectionable" books (some memories of the church's official sanctioning of proper books likely stayed in these priests' minds long past the time when it was a real concern). So for example, we couldn't officially read Catch-22, but Mr. Witucki highly recommended we read it during Christmas break because we were likely to be discussing it for a week or two after. In this climate, Catcher was one of those objectionable books. Looking back, I can't really remember what it was (and still sometimes is) that would get the censors into a lather. Did he visit a prostitute? Did he masturbate? I can't remember–but I do remember members of our class sharing tips on how to get into the local strip club, the El Mocambo, with a fake ID card, and we treated it like no big deal.
We still read Catcher, but no one could take a book home. Father Enright had 30 copies of the book in his room, and we all read it together in class. Out loud. Paragraph by paragraph. You want a surefire formula for sucking the life out of a book? This one worked like a charm.