I was all set to reprint something in the blog for the Christmas break, something people could read and enjoy at their leisure, since I won't be updating anything til the new year. I was going to use an excerpt from my book Recut Madness, because, you know, the holidays wouldn't be the same without shameless self-promotion. My conscience got a little bit the better of me, though, because the excerpt would be rather mean-spirited, to wit, my Red State retelling of "Miracle on 34th Street" with Santa being detained at Gauntanamo Bay for violating US airspace and carrying a mysterious list with millions of names on it.
It's a good bit, I gotta admit. One of my favorite stories in the book. I was even going to illustrate the whole post with the picture below, from shades of Christmases past, when I was a cute, eager member of the Monkey Patrol. (Anybody else get any Monkey Patrol gear in 1963?)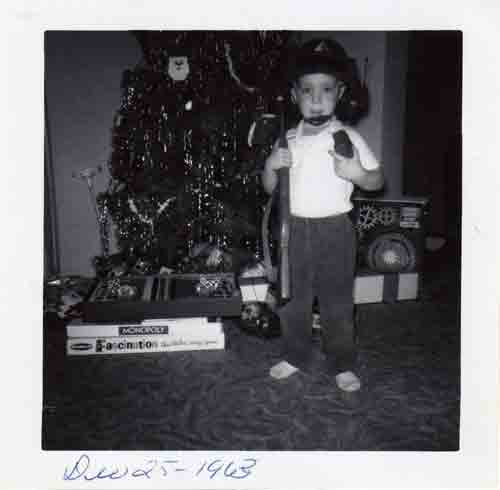 But right now, a few days before Christmas, I just don't have the heart to post it. Michael O'Donoghue would've done it in a heartbeat, but I'm too tired to be so provocative. Sentimentality is getting the better of me in my holiday fatigue. After a brief youthful flirtation with nihilism, I really do go for all that "do you hear what I hear?" jazz. It would leave a bad taste in my mouth to print something so black here on the eve of the eve of the eve of Christmas.
So instead, I've made a page that you can read sometime after Christmas, when everyone's good mood has worn down and the "Year-In-Review" magazines remind you of how the government has failed to serve us all this year. Then you can savor the cynicism a little better. Click here for that page.
For more upbeat reading enjoyment (upbeat for me, anyway), I'm going to post a little story from two years ago. I wrote it for my wife, something I try to do every year, if inspiration is willing. It's the story of a little unassuming man, one of those types we all know who seems to have been born in the wrong era. (Instead of changing this blog to show only excerpts, I'm going to post a page for "Mr. Dickens Goes Shopping" here. Sorry for the extra click.)
I hope you like it. I hope you'll forgive me for not being a go-for-the-throat-type of satirist right now. And I hope you have a peaceful and joyous Christmas and a happy new year.