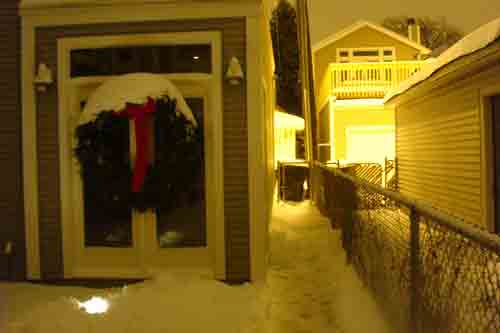 From the snowy north side of Chicago, I'd like to wish all readers, visitors, friends, family, expats, nonpats, and spangleprats a very Merry Christmas, Happy Hannnnnukkkkkkkah (sp?), and glorious new year.
Every year around this time, I write my wife a new Christmas story (at least, when I come up with a decent idea), some of which I like to share with people. I have a nice one this time, but she gets to see it first, of course, so no posting of that right now.
Last year I posted the heart-warming story of kindly old Mr. Dickens trying to buy a hairbrush at a mega-box-store during the holidays, which you can read by clicking here.
And if you'd like to read the excerpt of my book Recut Madness that rewrites "Miracle on 34th Street" and places the story at Guantanamo Bay (no, really, it's very festive, in a grim way), click here.

Looking through my files today, I found something that I don't even remember writing, but I think it's pretty funny. It resurrects a couple of old, shallow characters, The Marketeers, that my sometime-writing partner and I have had fun with over the years. In this story, our media creative team has a brainstorming session about how to connect one of their client's products with the holiday season. I've never worked in the ad business, so this little portrait of ego, short attention spans, mammon and creativity is not AT ALL what the ad business is all about, as far as I know. AT ALL. And even if it were, as one character says in the story, "There's no such thing as a bad idea."
Please enjoy this story by clicking HERE. And I hope you enjoy whatever end-of-year activities strike your fancy.