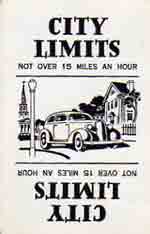 Yesterday I attended a business-group luncheon on the North Side to talk about Boy Scouting. Afterward I met an older man in the group, and we chatted as we walked to our cars. He asked me what neighborhood I lived in, and I told him Lincoln Square.
"Oh yeah," he said, "that neighborhood had a lot of Koreans there years ago. Do they still have a lot of Koreans there? Koreans and Greeks."
These types of frank comments are not uncommon when you talk to Chicagoans of a certain age. He wasn't being racist or exclusionary, as far as I could tell, but often the first thing some older people will say about a neighborhood is the racial makeup they remember. Of course, racists say these kinds of things too, but their intent is usually betrayed by a sneer or a slight lift in the voice. But this old duffer, IMO, was just reaffirming his mental map of the city. Such comments might be right or wrong demographically (from what I know, he was right about the Greeks but notsomuch about the Koreans), but in our "enlightened" age, assigning races to neighborhoods is completely bad form. Brings up images of redlining, ghettos, and the boundaries "that everybody knows about" that can result in ass-kickings for those who cross them.
Enlightened types like yours truly don't chop up the city that way. We do it by subtle comments about socioeconomics and class. The operative phrase is "So, Is that neighborhood nice?"
"Nice" can mean many things. Sometimes it means, friendly neighbors who watch out for each other. Lots of trees. Good looking buildings. Maybe parks and a library.
Other times, by "nice", people mean, has it been gentrified enough to be safe? Does it still have some ethnic flavor so I can feel superior to the "whitebread" suburbs? Are the other homes fixed up so I won't lose the value on mine when I sell? Is it full of college grads from other midwestern states that I can chat with while I'm walking the dog? Are the fences in the front yard wrought iron (good) or cyclone (bad)?
For reasons like this, I generally don't challenge comments like the old man made at the restaurant. Correcting a 75-year-old about "proper" race relations would only result in high blood pressure for the both of us. And we still have plenty of versatile ways to map out the city in our minds. I wanted to tell him Lincoln Square is now full of yuppies, but the term wouldn't have meant much to him. So I told him there were a lot of Germans here, but didn't mention that they were all pushing 80.