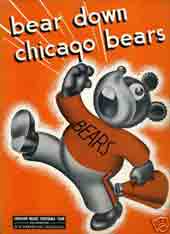 I love the idea of podcasts more than the actual things. They promise more than they actually deliver, they almost always need editing and truncating, and most importantly, I never have time to hear the whole thing. I sometimes wish I had to commute every day, so I could find some really good ones and, even more ambitiously, keep up with them. The ones I listen to have been piling up in my ipod like unread newspapers and copies of Atlantic and Money Magazine. There just aren't enough hours in the day for them all.
But I want to give a shout-out to my old friend Matt Walsh (of Upright Citizens fame) and his friends who've been putting up the "Bear Down" podcast for two seasons now. Stationed out in LA (which they say gives them perspective), they analyze the results of the week's Chicago Bears game with insight and humor, knowing enough to actually be interesting and funny enough to not be ponderous.
It's like watching the game with funny fans who aren't meatheads (mostly), or bitter former jocks, or short-fused know-it-alls, or macho masters of the world who dream of the day when they can buy a skybox and piss down on the fans. They also have great fake interviews with coaches, owners and former players that are almost believable, and completely hilarious.
So if you need a weekly recap in which no one is shouting at the camera or radio, and like a good laugh besides, check out the "Bear Down" podcast.