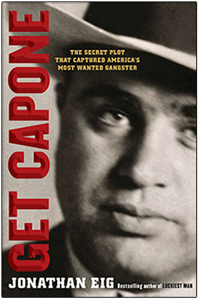 Jonathan Eig has just released his new book, Get Capone: The Secret Plot that Captured America's Most Wanted Gangster. By all accounts (check the advance reviews at the website), it is a terrific read, bringing alive a slice of Chicago history as vivid as a razor across the throat.
Jon allowed me to read a couple of passages early on, but I can't wait to read the entire book. I also can't wait to see him on The Daily Show at the end of the week.
Go out and get this book. IPhone users might also like to buy his app, Chicago Gangland Tours, which will allow you to find places in town connected with more than 600 historical facts. Makes me want to go buy an iPhone right now, just to cruise the city.
Jon allowed me to submit some questions for my column **cough cough** at True/Slant, exploring the role Chicago itself played in Capone's rise and meteoric fall. You can find it by clicking here.