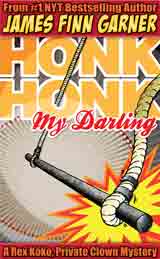 You mean, the lamp made out of a woman's leg?
No, something better!
Honk Honk, My Darling has just won the inaugural "Book of the Year, Nontraditional Fiction" from the Chicago Writers Association !!! YAHOOOO!!
This is truly awesome! I am so overjoyed that the judges gave the nod to Rex (and indirectly Lotta, Bingo, Boots Carlozo, Jimmy Plummett, Pinky Piscopink, Happy Jingles and all the other kinkers of Top Town). While I will proudly proclaim "Nontraditional Fiction" to mean my own strange brew of whatever makes me chortle, it really is directed at e-books and self-published books. And that's pretty cool, too, in this brave new world of publishing, to have made a splash.
Here's what judge Robert W. Walker said in his release:
This novel packs so much humor on each page, combining humor and the solving of the case with a unique panache. The novel defies categorization and flies in the face of convention while at the same time using the conventions of humor and mystery, a rare find; a paradox that works.
Man, it feels pretty good to defy categorization, and then win a category.
The last award I won for writing was in 1981 for a couple of short plays I wrote while at the University of Michigan. While writing has been good to me over the past 15 years, it's pretty darn nifty to receive an award like this, voted on by my ink-stained peers. The award ceremony will be held at the Book Cellar, 4736 N. Lincoln Avenue, Chicago, on January 14. We'll all be reading and signing, and it will be open to the public. Can't wait.
(Damn, I think my snark engine is broken. That's what genuine gratitude gets you. I hope this isn't a permanent condition.)