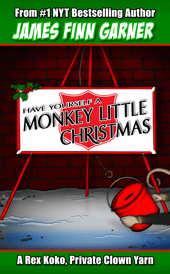 Well, really, it's not exactly new, because I unleashed it on the world LAST Christmas, with a podcast and everything.
But this is NEW in the sense that it has a NEW cover, a NEW name for a character within it, and a NEW reason for you to actually click over to Amazon and buy a copy.
"Have Yourself a Monkey Little Christmas" is a heart-warming, poop-flinging tale about how Rex Koko uses a horde of misfit monkeys from Top Town's infamous Monkey Hostel to help a sick friend out and give a come-uppance to a tight-fisted landlord who needs a little lesson in Christmas charity. It's like "The Dirty Dozen", only without the Nazis and the explosions and Jim Brown. Okay, it's not very much like "The Dirty Dozen" but it IS entertaining.
And when you buy a copy of the story from Amazon, you'll be helping out a good cause. I'll take the proceeds and match them, then give the whole wad to the American Red Cross to help with Hurricane Sandy recovery and whatever else is headed this way in 2013.
Now, some of you might already have the story, but this time it's for a good cause, and it's only 99c, fer criminy pete's sake. You can afford that, if only for the cover art. So clickety-click right here and buy it for yourselves and everyone you know:
http://www.amazon.com/dp/B00AFJY2XM
Thanks for your support with this. I'm sorry the podcasts for "Honk Honk, My Darling" have gotten off-track, but they will begin again sometime in January.
UPDATE: To everyone who downloaded this story, thank you very much. I'm putting a check in the mail today, and taking down this story for the time being. No one should want to read Christmas stories except at Christmas, I think. If you're good, it might come back next year. As Fats Waller once said, "One never knows, do one?"