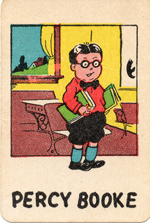 This year's Lit Fest down in Chicago's Printers Row was a little smaller than last year, as far as the number of exhibitors goes. The booths going up Dearborn Street did not stretch past Harrison Street, as they have in years past. And some of the booth space that did exist was taken up by an Acura dealer, a furniture maker, and a huge traveling exhibit that the Tribune trots out from the McCormick Freedom Foundation. I think the recession made it hard for bookstores to come a long way to exhibit there.
The Lit Fest is at a crossroads, I think, as many of these kinds of events are. I'm very grateful the Tribune sponsors so much of the festival, without a doubt, but is it mainly a used book fair, with a few panels and readings sprinkled in? Is it a place for writers to connect with readers, or to explore where publishing is headed? Is it always going to compete with the Chicago Blues Festival, and always take place in the rain? How does it complement or compete with Columbia College's Story Week and the Chicago Humanities Festival? Time will tell. The name of the event was changed from "Book Fair" last year, to broaden everyone's perception of what's going on, and I hope it doesn't pass away with the shrinking of the traditional publishing paradigm.
I was a participant in two events (pretty soon people are going to wonder when I'm actually going to publish something new, or whether I'm now a washed up eminence grise at 49). The first was the panel "Cubbie Blues," with my friends from that compilation of 2008 (left to right in the photo) Rick Kaempfer, Donald Evans and Robert Goldsborough. Our main topic, within the context of why the Chicago Cubs still and always suck, was why baseball is the most literate of professional sports. We talked about baseball as a conduit for memoir (Cardboard Gods, which I just finished, is a great example of that), literature (ditto The Man with Two Arms by Billy Lombardo), and poetry. My conclusion, which no one bothered to refute, was that baseball had a monopoly on the public imagination for 60 years, until the advent of television, and baseball has so much down time, even during a game, that it allows reflection, and that allows for better writing. And the Cubs are an evergreen topic because, well, they are just so multifaceted in their losing. The stories seemingly never end.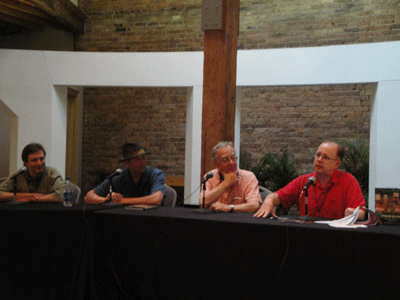 I also sat in for part of a discussion of Get Capone with the author, Jonathan Eig, and Trib writer and WGN radio host Rick Kogan. As usual, it was riveting stuff, and Rick is probably the best interviewer in town. A mysterious transformation came over Jon, however, when during the interview he felt himself transformed into a figure from a Red Chinese propaganda poster, looking across the bountiful harvest toward a glorious future. Rick, of course, was nonplussed by this. Who wouldn't be?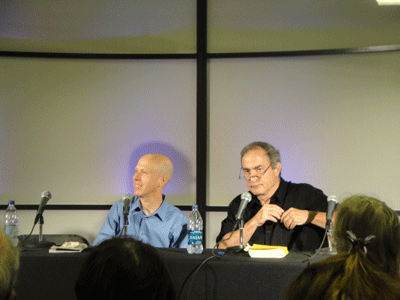 I spent the remainder of Saturday shopping, although I did take in the panel discussing mysteries and graphic novels. Some of the results of my shopping are below.
On Sunday, I had the privilege of being one of the judges at the first National Story Slam Competition, held at the Harold Washington Library. It was a terrific time. My friend Bill Hillmann has been running the Windy City Story Slam for almost three years, while at the same time other slam-type storytelling events have cropped up nationwide. So Bill managed to bring 9 champions from Oregon, Baltimore, South Carolina, Boston, and other places to compete. The winner, Nancy Donoval from Minneapolis, wove a captivating narrative about bone spurs, unicorns and regaining her virginity by proclamation by a friend (after it had been taken by force years before) that had heart, great narrative structure, humor and pain in wonderful amounts. She scored a 49.5 out of 50, so it was darn near perfect. You can read bios of all the competitors at the Story Slam website here. Nancy won the first belt from the judges, a huge gold girdle like a boxing champ can win. A second belt, given to the performer with the highest applause from the audience, was taken in a very very close competition by Chicago's champ, Alex Bonner. The crowd of more than 200 were loud and appreciative. I'm really excited to check out more slams in the future.
So, shopping at the Lit Fest wasn't too exciting this year. I think I was in a cheapskate frame of mind. I did buy a hardback copy of U of C Press' The Chicagoan, but luckily it was marked down to half-price. The only other things I dived for were a few dusty paperbacks, to add to a ragtag collection I've somehow gotten of these titles over the years. First, I found a couple paperbacks from the "Get Smart" series, as shown below. This brings my collection of these up to five out of nine (I think). I passed on paperbacks of Chips, Man from U.N.C.L.E. and the Bobby Sherman Show.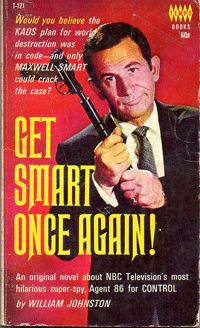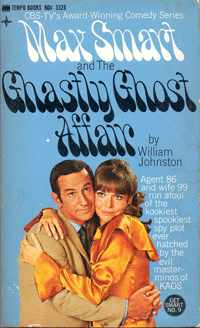 Then, at my last stop on Sunday, I found a couple of old Dell Mysteries from the 1940s, the cool ones with the "Crime Map" on the back cover. These are pretty collectible, I guess, but I don't want to get into all that stuff. I buy them if they amuse me, but how could anything printed with a "Crime Map" fail to amuse? I also liked the name of one of the authors, Zelda Popkin. It's almost the same as Hellzapoppin'. Maybe she's got a sister.