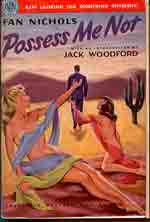 A headline at Huffington Post this morning got me very excited. I always get excited to discover things about me that are going on behind my back:
GN'R Album…Osment's Bad B'way Debut…Garner's Stalker….Affleck in Congo….
Wow, really? I've got a stalker? That's so flattering (maybe I've been extra lonely lately).
But after clicking through, I realize that it's really that camera-hound JENNIFER GARNER who's got the stalking problem. Can she ever get enough attention? She says she's reached her limit and had to file a restraining order, but I wonder about that. The limit, I mean.
Actually, I did have some weird goings on with a fan about 10 years ago. When my book Apocalypse Wow! came out in 1997, I expected to get a little hate mail or extra arguments on radio shows because of my mockery of religious millennial thinking. A little bit came, but (unfortunately for sales) not much. What did come in the mail, at roughly two-week intervals, were manila envelopes from a fan who read the book and realized that it was Destiny that she and I be together. My own marriage notwithstanding, this woman said that our union (probably more sexual than, say, intellectual) would bring about a new era of peace, growth and devil-worship. The notes got kind of scary and overwrought, and included things like pages torn out of bridal magazines and size charts for wedding rings. All around the envelope were the kind of angular printing and crystal-ball drawings that you might expect in your basic Breakfast Club.
Thankfully the letters were sent to my publisher, so the woman (whose name currently escapes me, though I could look it up, b/c I saved the envelopes, naturally) never figured out my address. Things devolved from spooky to pathetic after eight or nine envelopes, however. She said she wanted to come to Chicago and find me, but couldn't raise the bus fare from Cleveland. She was also trying to find money for dental work, which was hard because she'd been out of work so long. (Really, what kind of dowry is that to attract a harbinger of the devil's reign? Hmphh.) So our little one-way obsession was ended with no closure. I hope she found the money for that dental work, and also another fella with whom to herald the coming of the anti-Christ. I was obviously a false prophet.