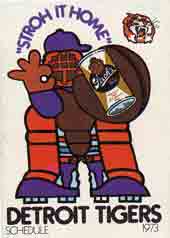 Throughout the summer, my affections have been pulled in two directions. I've been faced with the decision of whether to root for my current hometown White Sox or my former hometown Dee-troit Tigers.
Old loyalties die hard; I was 8 years old when the Tigers won in '68, and without that, I might never be a baseball fan. But this summer, I was more inclined to the Sox, because if they were to falter, impatient GM Kenny Williams would start to dismantle the team, swapping a player here and a player there, until what was so powerfully delicious last season begins to resemble a college sophomore's attempt at Sunday cooking. (Now his job involves which of his five starting pitchers to trade to make room on the roster for rookie phenoms coming up, as well as bullpen help. Good luck with that.) Besides, even with today's communications, it's hard rooting for a team from a distance. Even though I saw the Tigers beat up the Cubs in June here at Wrigley Field, they're still strangers to me.
This week, the Sox made the decision for me by finishing with the fifth best record in baseball. Hardly sputtering, but not enough to move into October. Now I can cheer for the Tigers until the Yankees come up and clean their fridges out.
After that, it's easy. Just cheer for whoever's playing the Yankees.