A few months ago I participated in a Wrigleyville reading series called the Lovable Losers Literary Review, which attempted to wrest the mantle of literate baseball despair from the shoulders of Red Sox fans and bestow it squarely on Cubbie diehards. Did we succeed? You'll be able to see for yourself, at the book release party for the anthology compiled from those readings, Cubbie Blues: 100 Years of Waiting Til Next Year.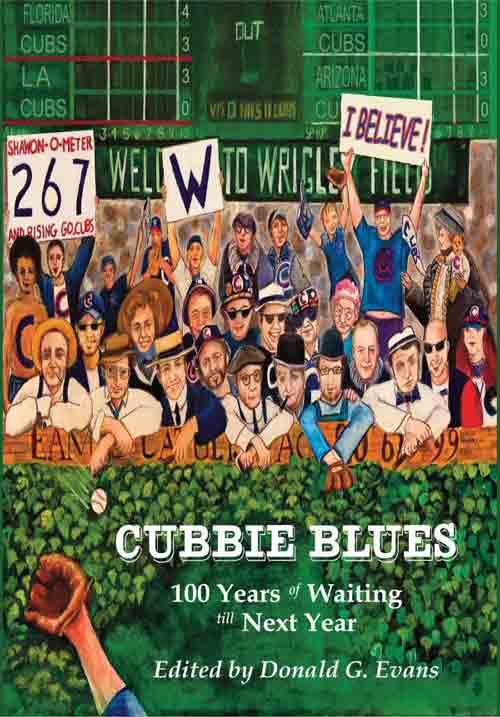 (As you can see, cover artist Margie Lawrence included pictures of the contributors in the bleacher crowd scene. That's me in the middle of the front row, with the newsie's cap and starched collar. It's my first time ever caricatured in a fake crowd scene, something that's been my dream since my first glimpse of the "Sgt. Pepper" album. And Margie chose the right era for me as well. There's always a bottle of cheap bourbon sitting on my spartan desk, and I recently had my laptop altered to look like an old Remington typewriter.)
Sunday night, Dec. 14 from 7-10, come down to Sheffield's and meet some of the contributors, including myself, Stu Shea, Jonathan Eig, Don DeGrazia, Sara Paretsky, and many others. We'll be signing books and reveling in holiday spirits besides. A portion of the proceeds of the book are being donated to Chicago Baseball Cancer Charities and their One Step At A Time Camp. It really is a nice anthology–literate, wonderfully written, heartfelt and fun. It's worth the price just to read Kogan's toast at the beginning of the book on how baseball gets into a young fan's blood. For more on the event, check out the article in yesterday's Sun-Times.

Aside from live events, copies are only available online, so if you can't make it out in person, click over to Can't Miss Press to order yours.