There has been too much death to start this baseball season. The superstitious among us (which probably means every baseball fan, at some point in his or her life) might say it's a bad omen, that we should stop the season now before something else happens. But if baseball is like life, then death certainly is a part of it.
First Nick Adenhart is snatched away by a drunk driver after an exciting start to a promising rookie year. Then, Harry Kalas, the voice of the Phillies, passes out in the broadcast booth and dies after 44 years of broadcasting. And Mark Fidrych, one of the most fabled Tigers of all, dies after an accident at his home in Massachusetts.
Three men, at different stages of life. Accolades won, fame flying by, promise unfulfilled, love and loss. Time, the avenger.
The only one of the three I know anything about is Fidrych. In his rookie year, I was 15, and was slowly abandoning baseball as uncool compared with music and the arts. (It was easy to turn my back on the Tigers, since they were heading straight downhill from the years I really loved them, from 1968 to 1973 and the firing of Billy Martin. My friends weren't too into the sport, nor was my family. I only learned years later that my father didn't take me to many games was that he hated baseball. Wish I could say I'm a third-generation fan with an unbroken streak of Opening Day appearances, but this is not my legacy.)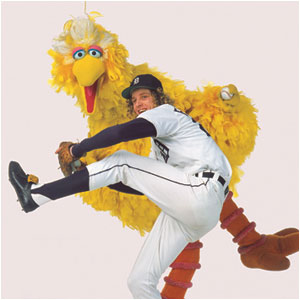 But you didn't have to be a baseball fan to enjoy Mark Fidrych. He had enough enjoyment bubbling out of him that there was plenty to spare. Talking to the ball, grooming the mound, he seemed like a loon–maybe not the kind of bird he would appreciate being compared to–but he certainly didn't care. A nonroster invitee, he was living every fan's fantasy–"Just give me the chance, and I'll strike out the Yankees. Just give me the chance." But he was no clown, and he wasn't a fluke. He had a wonderful delivery, doing things with his curve and slider that players 10 years older couldn't do. Watching him win was kind of like being in love for the first time. It was a beautiful, perfect thing, and wouldn't last in this world.
That bicentennial year was pretty crappy in Detroit. All the teams were losing. The auto industry was chugging along making Cougars and Delta 88s, but the factories were old and the unions were bloated and something about it felt corrupt. Disco was on the rise. Nixon had resigned 18 months before, and the hippies were getting fat and/or psychotic, and my 15-year-old mind just kept saying, Something's not right these days.
But Fidrych was a good thing. There was no whiff of cynicism or greed or entitlement about him. He was a pure soul, and stayed one even after knee and arm injuries took away his control. And in all the years since he retired, by all accounts, he never felt anger or self-pity or regret about how short his career was. He was happy pitching, was grateful for the chance, then was just as happy driving a gravel truck, marrying his love and fathering a child. That is the legacy of the Bird. And he'll always be that. And while I rarely find that peace of mind, I'll always be grateful to have seen it in a guy like him.
As I saw in the comments of Cardboard Gods, Rookie of the Year Forever.