I just read in the Free Press that tonight, Ernie Harwell will be saluted during the game between the Tigers and the Royals. Harwell, one of the premier baseball broadcasters and a staple in the lives of anyone who lived in Michigan in the past 50 years, was diagnosed with inoperable bile duct cancer last month. (For some readers' reactions to the news, check out this article in the Freep. Have a tissue ready.)
I wish I were able to tune in the game tonight in Chicago to see the message. I'm sure Ernie will be his gracious self and thank everyone for their well wishes and for making his life in Detroit so full. Whereas, in reality, he was the one who enriched our lives, with his skill, his great storytelling ability, his humor, and his seemingly endless goodwill for everyone. It's hard to write about him without seeming maudlin, but if the world still values humility, graciousness and respect for your fellow man (all of which certainly have taken a beating in the news for the past few years), then every day should be a salute to his example. He lived a long, full life, and he made everyone's lives better who came in contact with him.
A couple seasons ago, I sent a letter to Ernie to tell him about our new baseball poetry site, Bardball.com. I don't know why, but I imagined he would acknowledge it in some way, because until felled with illness, he always had time for everyone. I was floored when he sent the postcard below AND mentioned us in his regular Free Press column. And dig that! "I appreciate your support. Enjoyed your verse." I was over the moon when that arrived. And how cool is it that he used a Mickey Mantle stamp on it?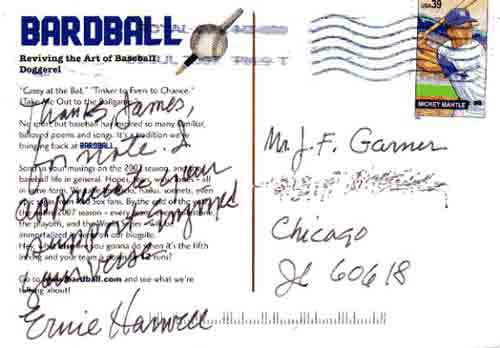 And now, news of his declining health makes me feel negligent, as if I haven't searched out his books, or read his column as religiously as he deserves. I probably thought he would go on forever. That's the kid in me, the one listening to Ernie and Paul Carey on the clock radio real quietly on a school night as the Tigers muddled their way through another game.
His books are great, but a little too anecdotal, which makes them a little choppy. Ernie's not Roger Kahn, after all, but none of us are. He was best enjoyed in the moment, when the game was unfolding and he was talking about Sparky or Gibby or John Wockenfuss, or whether the pitcher had his best stuff that night, or the fan from Amherstberg who caught the foul ball. I've tried working on a poem for Ernie for Bardball for a couple years now, but have never been able to get it quite right. Maybe soon I'll finish it, but it won't be nearly adequate to describe the man. To get a full measure of him, for those of you out-of-towners, imagine his spicy baritone on Opening Day, when he would read from the Song of Solomon:
For, lo, the winter is past, the rain is over and gone;
The flowers appear on the earth; the time of the singing of birds is come, and the voice of the turtle is heard in our land.
All the sweetness of creation. And with that, another season began, and the world was new again.
How many broadcasters can give you that?
UPDATE: You can watch Ernie's speech by going to Bless You Boys, and you can see the video highlight reel shown at the stadium last night at the Tigers website here.