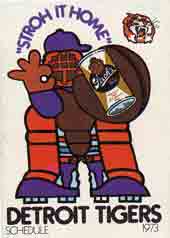 I'd been battling allergies for a couple of weeks and was completely drained of energy. On the night before, I played host to a book signing and stayed out til midnight with the literary types singing karaoke at a lesbian bar.
So, what was the best thing to do to stay healthy? Of course! Wake up at 5 AM and drive to Detroit for the Tigers Home Opener!
I've now been to more Opening Days at Comerica Park than I ever did at Tiger Stadium. I wish that weren't the case, but I never was into skipping school, and generally had a good excuse not to go during college years. Then I moved to Chicago and tried to pretend I didn't care. Now, it's too late for the Stadium, which was finally and completely knocked down last summer. But Old Comiskey's gone too, and Yankee Stadium. Those fights are done, time to get on with living.

It was an overcast day, temperature at game time was 38. But my friend Gary sold me one of his very sweet upper deck seats that looked right up the first base line.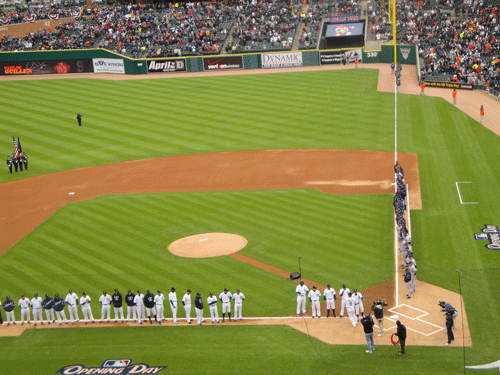 The wind was minimal, the company was good, and the Tigers beat the Indians 5-3. (One thing I wish they'd do is STOP singing "God Bless America" during the seventh inning stretch. Come on, guys, just quit it. It's depressing and pompous and no one connects it with 9/11 anymore.)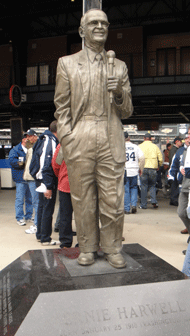 Ernie Harwell wasn't there, for the first time since 1960 (minus his lost year when former GM Bo Schembechler fired him). Ernie is suffering from pancreatic cancer, and probably won't make it to see Opening Day 2011. Once again, a reminder that time marches on.
It was a crazy scene in the streets after the game. I haven't seen so many people completely shitfaced in a long, long time. Not just 20-yr-olds, but people in their 40s and 50s, who oughta know their limits by now. They were being dragged around by their friends like it was "Weekend at Bernie's" time, literally vomiting and pissing their pants. Someone in our group speculated that it might show the economy is doing better, which would put people in a better mood. Then again, he thought it might show the economy is in worse shape, and people are cutting loose in frustration. I don't know which is true, but watching some idiot take a swing at a cop in full daylight was more than a little pathetic. Every big public event doesn't HAVE to turn into Mardi Gras, does it?
After the game and a little beer reception, a bunch of us headed to the Polish Village Cafe on Yemans, a terrific place in Hamtramck. (I also now know more Polish restaurants in Detroit than I do in Chicago–sad but true! I still intend to drag my kids out to one soon, just to tick off that box.)
Then we grabbed a couple beers at Skipper's Hamtown Bar on Conant, which is run by a truly great innkeeper and has a fridge stocked with all things good, including Bell's Two-Hearted Ale, possibly my favorite malt beverage. Skipper is an old neighborhood guy who knows all the politicians and went to school with half of them. It's a warm, friendly place full of crazy Detroit people. Anyone who doubts that the city will survive should hang out there for a night and listen to the patrons and their love of the Motor City.
One of my favorite reasons for going to Detroit is crashing at the house of my friends Gary and Vicki. They live in Indian Village, in a beautiful house designed by a young Albert Kahn, the famed industrial architect. Indian Village is a beautiful neighborhood that reeks of the class and money that Detroit enjoyed in the first quarter of the last century. (Surrounding it is some pretty rough terrain, let alone wasteland, but enough has been written about that lately.) It is truly striking to see the remnants of that era and realize how much money the car makers were bringing to the city then. Now, you can buy a 5000 sq ft house in Indian Village for the low six figures. Or even less, although many speculators swooped in during the housing collapse.
When I was young, my dad kept a boat on the Detroit River, and occasionally we visited people's houses in elegant, old-school neighborhoods like Indian Village and Grayhaven, which had a canal and boathouses for each of the properties. Hanging around near Belle Isle brings back those memories. Just looking down Gary's street, with the spring trees barely stopping the sunshine, you can see the Detroit River rushing by, same as always. We ate breakfast Saturday morning at a pancake breakfast at the Jefferson Avenue Presbyterian Church, a gorgeous old place with friendly people.
Visiting Detroit almost always brings back large waves of nostalgic feelings and memories. This year, it didn't. Maybe I was too tired. Maybe the final demolition of Tiger Stadium somehow stuck one last nail in that coffin. I've been doing a lot of reading about what the future may hold for Detroit, how Mayor Bing is hoping to relocate people away from blighted areas so the city provide services to a dispersed and shrinking population, how "decay porn" is attracting the notice of all the news organizations around the world. Figuring out where the place will end up is a confusing business.
It's much easier just to weigh the Tigers chances for the World Series, now that they've lost Granderson, Polanco and Rodney.