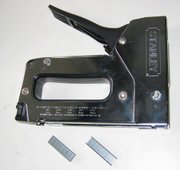 Okay, so… these days, there's big money to be made in home health care, right? No one has insurance, no one wants to bother going to the emergency room for things, everyone is more into do-it-yourselfing, etc.
When is a big company going to market a home medical staple gun?
Think about it. Sutures are rarely used for gashes and gouges anymore–it's all done with a little modified Black & Decker. So why not sell little sanitary staple guns for the home first aid kit, with really expensive replacement cartridges for the staples? Wouldn't such a little wonder be appealing to the man of the house, who could just seal himself up after an accident chopping wood? Wouldn't the kids be fascinated by the mechanism while they're being patched up? Wouldn't a company love to manufacture some of these and sell them to consumers with a big scary campaign, even if they were pretty certain people wouldn't use them?