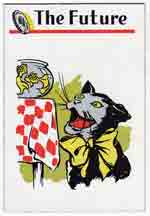 Hello, all you bips and kinkers. Hope your New Year is still smooth and shiny, still sporting that New Year smell. Things are finally quiet here on the Mezzanine Level, as both my Ever-Lovin' Wife, Number One Son and The Urchin have all returned to their respective schools. Me? I just return to the four corners of my battered yet resilient psyche.
(I sure hope the WordPress Self-Aggrandizing Filter is still activated.)
I can't find an overarching theme or topic to string all my thoughts together, so I'll just toss 'em out here and let them fall where they may.
1. Thank you very much to all my readers and fans out there who scooped up e-copies of all my books. December was my biggest month yet, and I hope that you all enjoyed the various PC stories and the sawdust-and-tinsel epic of Honk Honk My Darling.
2. Thanks also to those of you who downloaded the special Rex podcast, "Have Yourself a Monkey Little Christmas." I've taken that audio file down now, but it will come back later in 2012 as a Christmas treat. I hope the next audio chapter of Honk Honk My Darling will be ready to go by the end of next week. (If you haven't been listening, it couldn't be easier to catch up on old episodes. You can subscribe at iTunes or go straight to LibSyn to grab them: http://rexkoko.libsyn.com.)
3. My incredibly slow but unstoppable conquest of all media continues, with the release of the paperback edition of Honk Honk, My Darling! Yes! A physical book you can hold in your physical hands! It would've been great to have had it ready in December, but we had some snafus uploading it to Amazon's CreateSpace. But after some tweaks and another round of proofs, it is here, and looking very professional. I didn't know the art would look so sumptuous when expanded to a paperback format, but I am very very pleased with the result.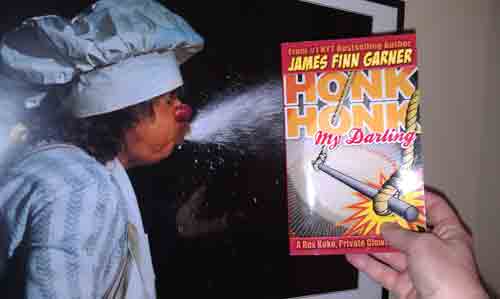 Here we see Zippo's appropriate reaction to the beautifulness of the paperback. (Zippo appears courtesy of Germany's renowned Circus Roncalli.)
The paperbacks are printed on demand by CreateSpace and are for sale at Amazon for $9.99. They will also be available this Saturday, as the Chicago Writers Association honors the 2011 Book of the Year Winners! At 7 p.m. at Lincoln Square's wonderful Book Cellar, we'll be having readings and snacks for everyone, so everyone in Chicagoland, come out and support your local writers! This year's winners are Christine Sneed, Pamela Ferdinand, Krista August, and yours truly. For more on them and on the awards in general, head to the CWA blog.
4. For those who want the whole five-cent background on me and the evolution of Rex Koko, check out the interview on the CWA Blog.