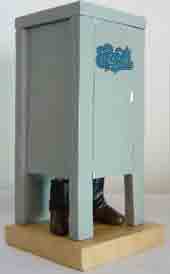 This Sunday, the St. Paul Saints of the American Association will be running a promotion, giving away 2,500 Sen. Larry Craig Bobble-foot dolls. According to their press release:
During the Sunday, May 25 game the first 2,500 fans in attendance will receive a bobblefoot. The design is a bathroom stall, with a foot that peaks out of the bottom and "taps" up and down. The day coincides with National Tap Dance Day.

While many people tap their foot because they are impatient, others may do it because they are nervous. It doesn't matter if your tapping style is done with a "wide stance" or is used as some sort of code, the Saints are asking all fans to tap to their heart's content on May 25.
Sorry, Mrs. Obama, but there are times when I just LOVE this country.
Thanks for tip from It Is High, It Is Far, It Is…caught.