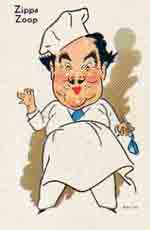 Got back last night from a weekend of getting the cottage ready for the summer. Got the dock in without anyone drowning, which is always a good sign. The weather was too cold to go swimming or to eat outside, unless the sun was pounding directly on you. Nevertheless, I'm so very ready to chuck everything around here and relocate for a summer of reading, napping, fishing, and martini-drinking. We won't really be up there until July 4, due to other commitments and a road trip we're trying to take to the east coast. I won't be able to take the wait. I need to catch me some fat bluegill NOW!
Our cottage is near the town of Fennville, which has two gas stations, one grocery store, a video store and a pharmacy. It also has a Mexican restaurant that's hands-down the best in three counties. But the newest restaurants there have brought with them a strange phenomenon: Fennville is becoming a destination spot for foodies.
A few years ago, this started happening in my Chicago neighborhood, when a few eateries got written up in the New York Times (I think all of them have closed in the meantime except one). The foodies were conspicuous by the expensive casual clothes they wore, and the sweaters tied around their shoulders (60-somethings trying to look like they just stepped off the green). The wives always walked in front, wearing eager expressions for their urban adventure, with the husbands four paces back, bemused and patient and thinking life is supremely good as long as the Viagra holds out. They're not so much around anymore, maybe they've moved on to Logan Square or West Town or Joliet. Which is good. Sated with food and too much South African shiraz, they were clogging up the sidewalks with their meanderings.
But now the town near my cottage is getting them. Their destination is the Journeyman Cafe, which opened on Main Street two years ago. The restaurant features only locally grown food, part of that whole locavore idea, which I think is a fine and dandy one as long as I don't have to eat too much squash or give up coffee and bananas. The foodies arrive there, clutching their purses and peering into the place like a cave–"So THIS is the place everyone's talking about?"
I'm not knocking the food, which is good to excellent, nor the idea of eating local. The angle of it I find most interesting, from a global socioeconomic viewpoint, is that the locals can't afford to eat local. Few if any of the year-round residents can afford a $17 plate of lamb chops, however well intentioned the food is. Will this always be the case, or will the practice of locavorism make the area economically viable to the point that the former factory hands and farmers around there will be able to afford it? What's more than likely is that the spread between the haves and the havenots will continue to grow until we begin to resemble Mexican resort towns, where the locals get only a glimpse of the good life.
Of course, I'm a fine one to talk, being a summer resident visiting my second home in my Illinois license plates conspicuous on the Volvo wagon. And I like a good meal as much as anyone. But any trip to Michigan will give you a quick view of the economic disparities in the country, and I've only seen it get worse in my time up there. Let's hope those $17 lamb chops will do some good in the long run, and not just be a tasty curio of an era of decline.