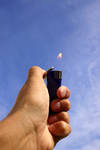 Put your lighters in the air, dudes and dudettes: The inductees to the Rock and Roll Hall of Fame were announced yesterday. Sabbath, the Sex Pistols, Lynyrd Skynyrd, Blondie and Miles Davis (?) will soon be enshrined in that stately assemblage. Wouldn't it be a treat if all of their plaques were lined up next to each other, so the punks and the metal heads and the Skynyrd fans could mix it up every day?
I've been to that museum twice, but still have a hard time swallowing the whole concept. Comprehensive historical expositions on the psychedelic era just seem like such make-work efforts, like pursuing a degree in American studies.
Maybe the problem is the glass pyramid on the Cleveland lakefront, designed by bigtime muckymuck I.M. Pei. What the hell does a glass pyramid have to do with rocknroll, except for Todd Rundgren and maybe Madonna's boobs (weren't they a geometric shape at one point?) ? Too egg-headed. A much more apt setting would be a barge floating next to the back end of a gigantic pink 56 Chevy, stuck nose down in the mud of Lake Erie with flames coming out of the wreckage. This would announce to the world both, "Live fast, die young" and "Yeah, our river caught fire once—wanna make something of it?"
So shout "FREEEE BIRRRRRRD!" at everyone you meet this week. Or just randomly, as you're standing in the street.