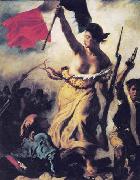 Here's some more copy from the aborted brochure for EuroDisney. For more, see yesterday's blog entry. Warning: Snarky jokes about French history and culture ahead!
MARIANE-LAND

Named after Mariane, the glorious feminine symbol of our country, Mariane-Land celebrates all the splendor and vitality that is France. Experience those thrilling moments of French history and culture that have earned it a place at the head of all nations.

Attractions:
Storm the Bastille! — Relive the excitement of the first days of the French Revolution, as you are tossed into a rat-infested dungeon as a traitor to the crown, tortured for intelligence reasons, then liberated by your comrades in arms. But if you find out you've allied with the wrong faction, don't lose your head!

Napoleon's Waterloo Water Park — More than just Europe's premiere waterpark, this is an entertainment tidal wave! Splash your way through to the front line, as water cannons explode around you and British soldiers lunge at you with bayonets. Make it all the way through the defenses and see if you can unhorse Wellington! EXTRA ADDED ATTRACTION: The Dien Bien Flume — This fantasy water ride through French-occupied Vietnam begins with a leisurely ride through the beauties of colonial Saigon and leads to surprise water attacks by Ho Chi Minh's battle boys.

WWII Surrender Ride — Climb into your very own replica German tank and roll through the scenic French countryside uninterrupted into Paris! This scale model will show you the splendors of the City of Lights, which the Parisians will hand over to you without your even firing a shot. (Don't worry if the line for this ride is long. You'll get through it fast — it's a Maginot line!)

Hall of Heretics — Joan of Arc is your guide through this Animatronic salute to religious diversity in France. Meet the Huguenots, the Albigensians, the Jansenists and others as they tell their side of the story. Special pyrotechnics show twice daily.

FOOD AND RESTAURANTS:
The Sun King — Full menu. Dine in regal splendor and toss your scraps to the peasants.

Let Them Eat Cake — Pastries, petit fors, and baked goods.

The Dreyfus Deli — Sandwiches, delicatessen food.

SHOPPING:
Catherine Deneuve Allure-O-Mat — Discover all that is Deneuvean. From parfum to rouge, she's got it all.
My favorite bit is the Dien Bien Flume, but I'm pretty sure that was Todd's joke.